Sheet Pan Dinner Series: Beef and Broccoli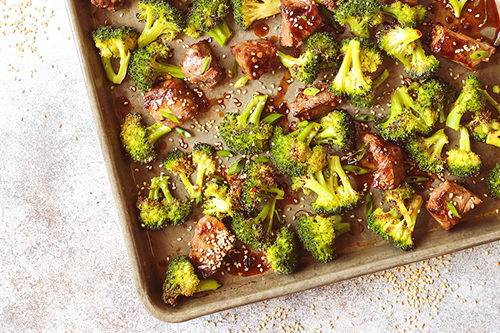 Say hello to the easiest beef and broccoli of your life! No fuss, less dishes, yet it's 10000x better than take-out. Win-win!
This article was adapted from Damn Delicious.
Guys. This beef and broccoli doesn't get any easier. It just doesn't. It cooks on a sheet pan, which means less fuss and less dishes. It's a win-win for all. The steak is also incredibly juicy and flavorful while the broccoli is just perfectly crisp-tender. The only hard part here is making the sauce, except you can easily do that on the stove top while your beef and broccoli are cooking.
Ingredients
1 cup basmati rice
1 1/2 pounds New York strip steak, cut into 1-inch chunks
3 tablespoons reduced sodium soy sauce, divided
2 tablespoons plus 2 teaspoons brown sugar, divided
2 heads broccoli, cut into florets*
2 teaspoons toasted sesame oil
3 cloves garlic, minced
1 teaspoon freshly grated ginger
1/4 teaspoon crushed red pepper flakes
2 green onions, thinly sliced
1 tablespoon toasted sesame seeds
How to make this beef and broccoli
In a large saucepan of 2 cups water, cook rice according to package instructions; set aside.
Preheat oven to 450 degrees F. Lightly oil a baking sheet or coat with nonstick spray.
In a large bowl, combine steak, 1 tablespoon soy sauce and 2 teaspoons brown sugar. Place steak and broccoli in a single layer onto the prepared baking sheet.
Place into oven and bake until steak is browned and broccoli is just tender, about 16-18 minutes.
In a small saucepan over medium low heat, combine sesame oil, garlic, ginger, red pepper flakes, remaining 2 tablespoons soy sauce and remaining 2 tablespoons brown sugar. Bring to a boil; reduce heat and simmer, stirring constantly, until slightly thickened, about 2-3 minutes.
Serve steak and broccoli immediately with rice, drizzled with soy sauce mixture and garnished with green onions and sesame seeds, if desired.