Rosemary Garlic Roast Beef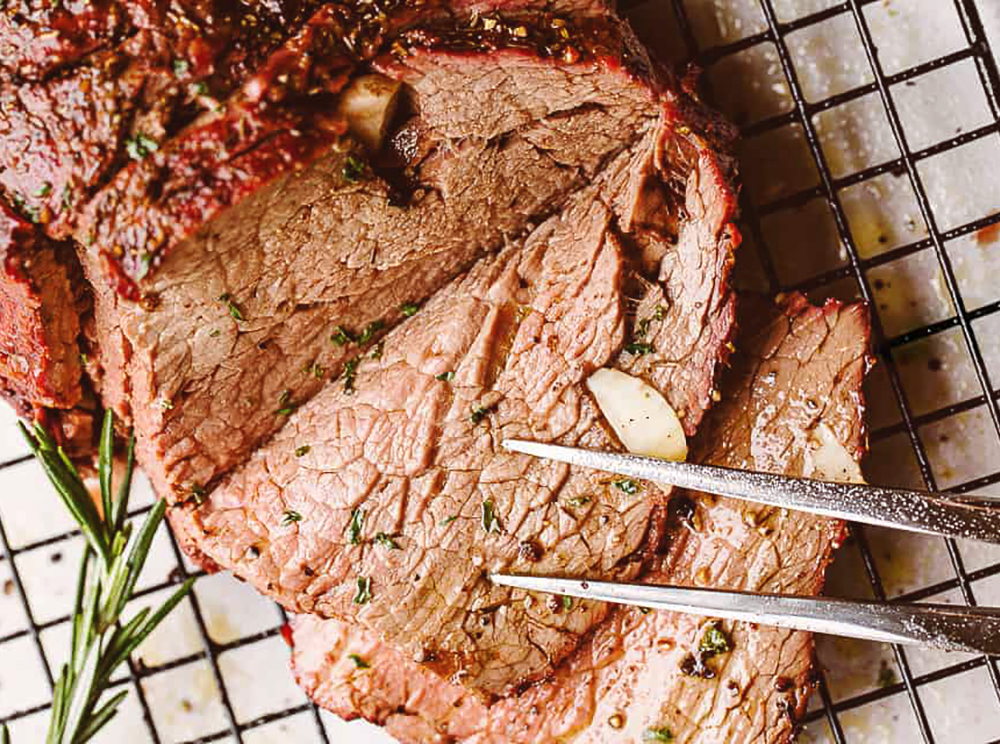 This easy roast beef recipe has slivers of garlic and fresh rosemary for amazing flavor.  With only a handful of pantry ingredients, you're just few steps away from whipping up this wonderful, mouth-watering roast beef dinner! Source: https://diethood.com/

Originally posted on https://diethood.com/ recipe by Katerina of Diet Hood.
Instructions
1 (3 to 4 pounds) round roast, fat trimmed off
4 cloves garlic, each clove cut in 3 slivers, longwise
3 tablespoons olive oil
1 tablespoon chopped fresh rosemary
1/2 tablespoon chopped fresh thyme leaves
2 teaspoons salt, or to taste
1 teaspoon fresh cracked pepper, or to taste
Instructions:
Preheat oven to 450˚F.
Prepare a roasting pan with a rack set over it; set aside.
Take the roast out of the fridge at least 1 hour before cooking, and up to 2 hours before cooking.
Pat dry the meat with paper towels.
Using a sharp knife, cut slits in the roast and insert the slivered garlic evenly around the whole roast.
In a small bowl combine olive oil, rosemary, thyme, salt, and pepper; mix until thoroughly incorporated.
Rub the rosemary mixture all around the roast.
Place roast on top of the rack that is set over the roasting pan.
Stick an ovenproof meat thermometer into the center of the meat.
Put prepared meat in the oven and roast for 15 minutes.
Reduce heat to 325˚F and continue to roast until internal temperature reaches 130°F for rare, 140°F for medium rare, and 150°F to 155˚F for medium to well done. This can take anywhere from 1 hour and 20 minutes to 2 hours, depending on the size of the roast and desired doneness.
Remove from oven and let roast rest for at least 20 to 30 minutes before cutting.
Cut and serve.
For additional information and helpful tips, please visit: https://diethood.com/