Beef Ramen (Keto & GF)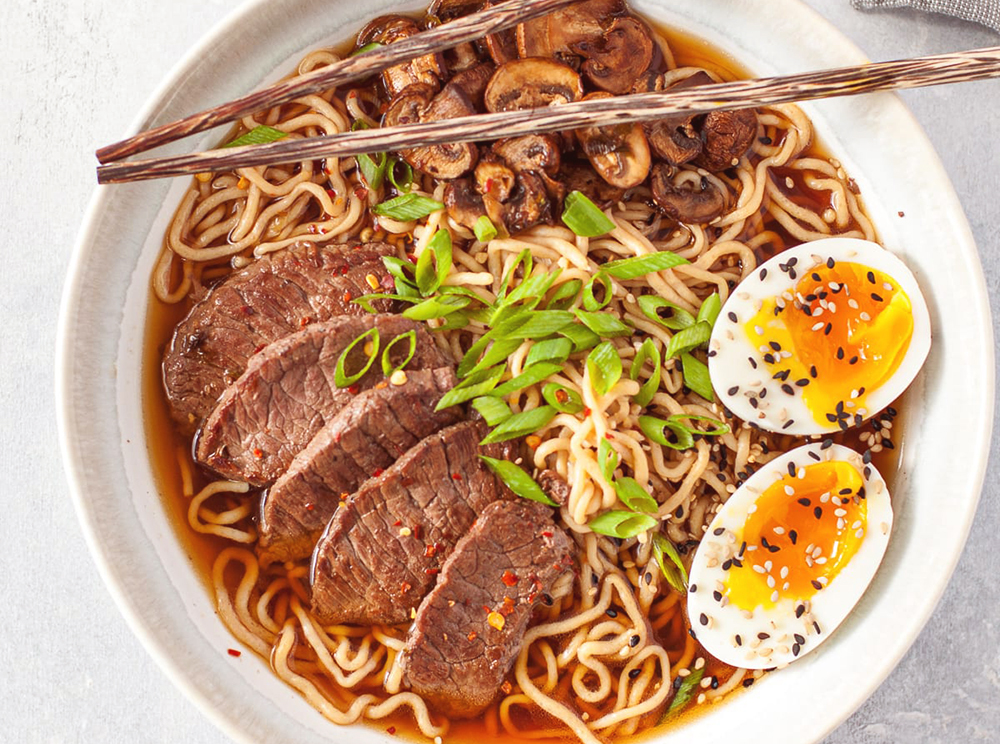 This keto-friendly Beef Ramen recipe has all of the flavors of a traditional ramen, but without all the carbs. Use this recipe as a base and mix and match with beef, chicken, or seafood, and any of your favorite vegetables. Source: https://peaceloveandlowcarb.com/

Originally posted on https://peaceloveandlowcarb.com/ recipe by Kyndra Holley of Peace, Love and Low Carb.
Instructions:
1 pound boneless top sirloin steak, cut into 1⁄4-inch-thick slices
Sea salt and black pepper
4 (8-ounce) packages spaghetti-style shirataki noodles
5 cups beef stock
2 cloves garlic, minced
1 teaspoon grated fresh ginger
1 tablespoon toasted sesame oil
1 tablespoon unseasoned rice wine vinegar
1 tablespoon fish sauce
Pinch of red pepper flakes
5 tablespoons gluten-free soy sauce or coconut aminos, divided
12 cremini mushrooms, thinly sliced
4 green onions, sliced on a bias, white and green parts separated
4 soft-boiled eggs
1 tablespoon black and/or white sesame seeds
Instructions:
Season the steak generously with salt and pepper and set aside.
Rinse the shirataki noodles, soak them in fresh water for 10 minutes, and then drain them.
Heat a large skillet over medium heat. Add the noodles to the pan and dry-fry them for 3 to 4 minutes, tossing frequently.
While the noodles are frying, bring the beef stock to a simmer in a stockpot or Dutch oven over medium heat, then reduce the heat to medium-low.
To the noodles, add the garlic, ginger, sesame oil, vinegar, fish sauce, red pepper flakes, and 4 tablespoons of the soy sauce. Stir-fry for 5 minutes, or until the noodles turn brown from absorbing the sauce. Add the noodles and sauce to the pot with the stock.
Return the skillet to the stovetop over medium-high heat. Sear the steak in the hot pan for 1 to 2 minutes on each side. Remove the steak from the pan and cover to keep warm.
Reduce the heat under the skillet to medium and add the mushrooms, the white parts of the green onions, and the remaining tablespoon of soy sauce. Stir-fry until the mushrooms are tender and the onions are soft.
Divide the noodle mixture among 4 bowls. Top each bowl with the steak and the mushroom mixture. Pour the broth over each bowl, dividing it evenly among the bowls. Finish each bowl with an egg, some sesame seeds, and the green parts of the green onions.
For additional information and helpful tips, please visit: https://peaceloveandlowcarb.com/