Nose-to-Tail Series: Homemade Chicharrones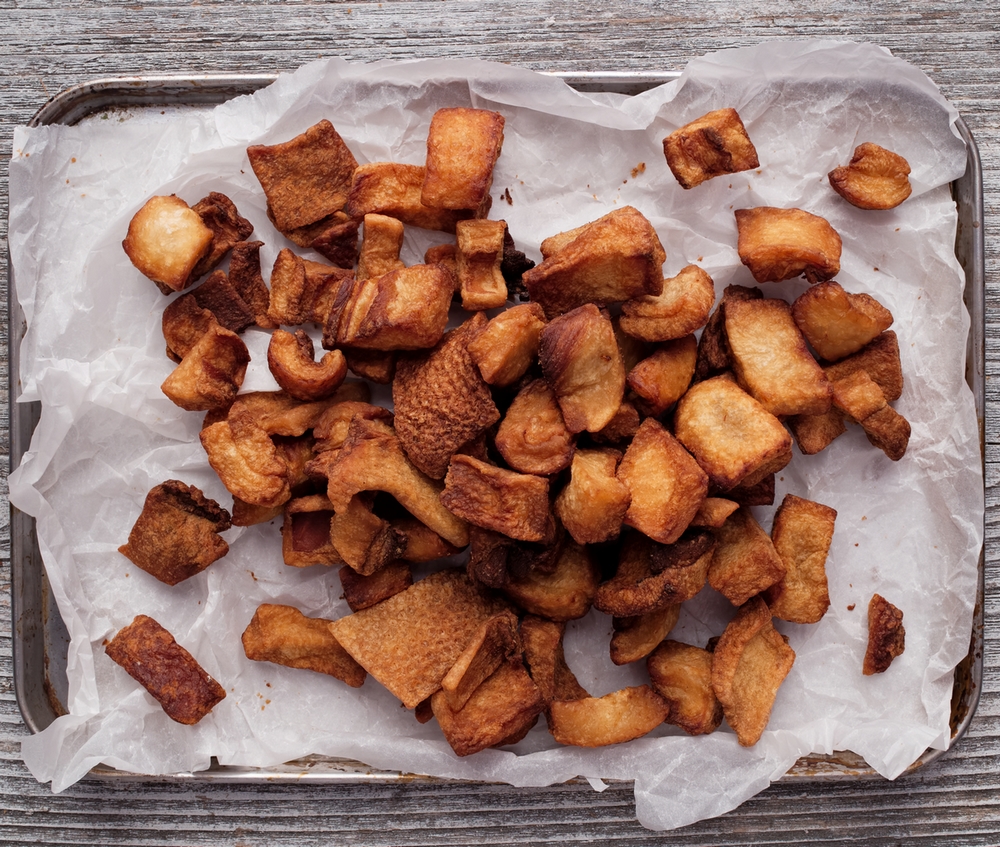 Chicharrones are salty, crunchy and savory, and they are the perfect low-carb or keto solution for a snack attack! They also couldn't be easier to make!
Ingredients
You'll only need three ingredients to make homemade pork rinds (the exact measurements are listed in the recipe card below):
1. Raw pork skin
2. Olive oil: I love the taste of olive oil and how perfectly it's crisps up the pork skin!
3. Kosher salt: I highly recommend using coarse kosher salt in this chicharrones recipe. Fine salt will not be as good. You can use anywhere from 1 to 2 teaspoons of kosher salt.
Optional spices:
1/4

 

teaspoon

 

black pepper

1/4 

teaspoon 

garlic powder

1/4

 

teaspoon

 

onion powder

1/4

 

teaspoon

 

paprika

 

or smoked paprika
How To
Preheat your oven to 325 degrees F. Line a rimmed baking sheet with parchment paper.
Using a sharp knife, cut the pork skin into bite-size pieces. If the skin has a thick layer of lard attached to it, trim some of the fat, but don't go nuts about it – it's OK and very tasty to leave a thin layer of fat attached to the skin.
Arrange the pork skin on the prepared baking sheet, skin side up and fat side down, in a single layer. Make sure the skin pieces don't touch each other.
Generously coat the pork skin with olive oil. Sprinkle with salt. If using, sprinkle with additional spices.
Bake until crispy and golden. Depending on your oven, this should take between 1.5 – 2 hours.
Transfer the chicharrones to paper towels, skin side up, and allow them to cool for 20 minutes before enjoying them. They greatly improve in taste and texture after they cool.
Refrigerate the leftovers in an airtight container for up to 5 days. Remove them from the fridge 30 minutes before enjoying them.