Bacon Deviled Eggs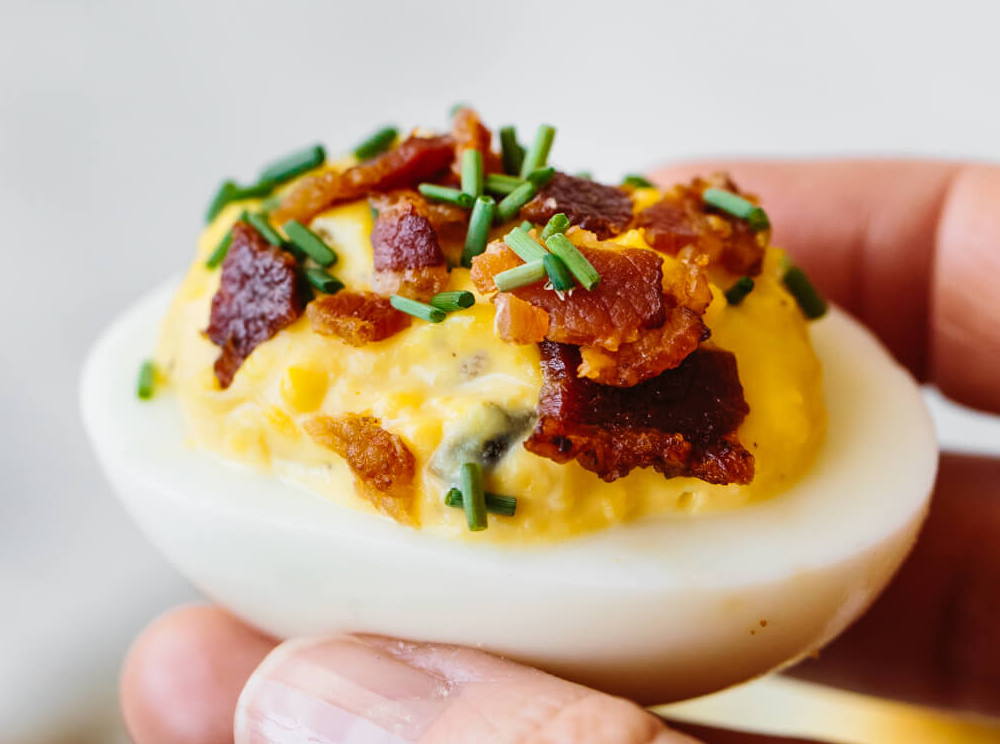 Here are 30+ best egg recipes that prove eggs can truly do it all! From breakfast to dinner, I'll show you how different cooking methods can create easy, unique, and flavorful meals. And with a few extra tips – you'll soon be an egg pro! Source: https://downshiftology.com
Originally posted on https://downshiftology.com/ recipe by Lisa of Downshiftology.
HEALTH BENEFITS OF EGGS
Eggs are truly one of the best ingredients in the kitchen! They're easy to cook with, light on the wallet, and versatile in the sense that they can be scrambled, fried, poached, and more. Best of all, they're chock full of health benefits. Here's just a few positive things to note.
They're a protein powerhouse! Did you know there are 6 grams of protein in just one egg? It's no wonder why we love eggs as a mighty source of nutrition! Especially since it's an economical one to boot.
They're nutrient rich. Eggs are hands down one of the most nutritious foods loaded with minerals, amino acids, and vitamins such as Vitamin A, Vitamin D, Vitamin E and all sorts of Vitamin B's.
They help with good cholesterol. While eggs are high in cholesterol, it helps to raise the level of HDL cholesterol instead of LDL cholesterol. Meaning it won't have as much of an effect on your blood cholesterol as you think.
The perfect source of Omega-3's: Last but not least, eggs have a high supply of omega-3 fatty acids in the form of DHA. This is a great option for people who don't consume fish on a weekly basis.
Bacon Deviled Eggs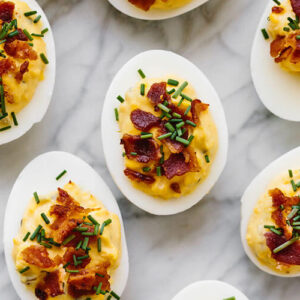 Ingredients:
6 hard boiled eggs, cooled and peeled
3 tablespoon mayonnaise
1 tablespoon pickle relish
1 teaspoon Dijon mustard
salt and pepper, to taste
2 slices bacon, cooked and crumbled
1 tablespoon chives, finely diced
Instructions:
Slice the hard boiled eggs in half lengthwise, then remove the yolk with a spoon to a small bowl. Place the egg whites on a separate plate.
With a fork, mash the yolks. Then add the mayonnaise, pickle relish, mustard, salt and pepper, and stir everything together until creamy.
Scoop a portion of the mixture with a spoon into the hole of each egg white.
Sprinkle on crispy bacon bits and chives and serve!
Visit https://downshiftology.com/ for 29 more recipes!