Braised Osso Buco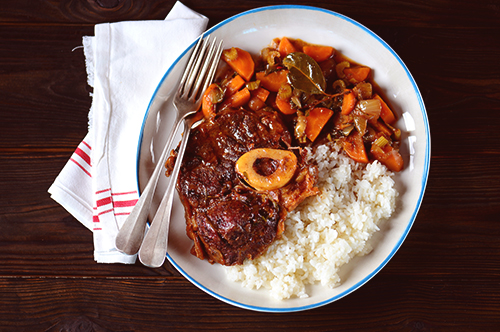 An easy braise in white wine packs lots of flavor.
Originally posted on https://www.saveur.com/article/Recipes/Saveur-100-2011-Osso-Buco-Braised-Veal-Shanks
BRAISING
Rick Moonen, RM Seafood, Las Vegas
"It was years later that I learned that the technical term for what Mom was doing by simmering those ingredients in a little liquid was braising — and it's since become one of my favorite techniques."
Rick Moonen, chef of RM Seafood in Las Vegas, gave us his mother's osso buco recipe for these falling-off-the-bone veal shanks. Serve them with mashed potatoes to soak up the rich gravy from the pan.
Ingredients
SERVES 6
6 (1 1⁄2"-thick) crosscut veal shanks, tied with kitchen twine
1 cup flour
2 tbsp. canola oil
3 tbsp. unsalted butter
2 large onions, minced
2 medium carrots, minced
2 ribs celery, minced
2 tbsp. tomato paste
1 bunch flat-leaf parsley
5 sprigs fresh thyme
2 bay leaves
1 cup veal stock (optional)
8 cloves garlic, minced
Zest of 3 lemons
1 (750-ml) bottle dry white wine
Kosher salt and freshly ground black pepper, to taste