Grandma's One Pan Hamburger Helper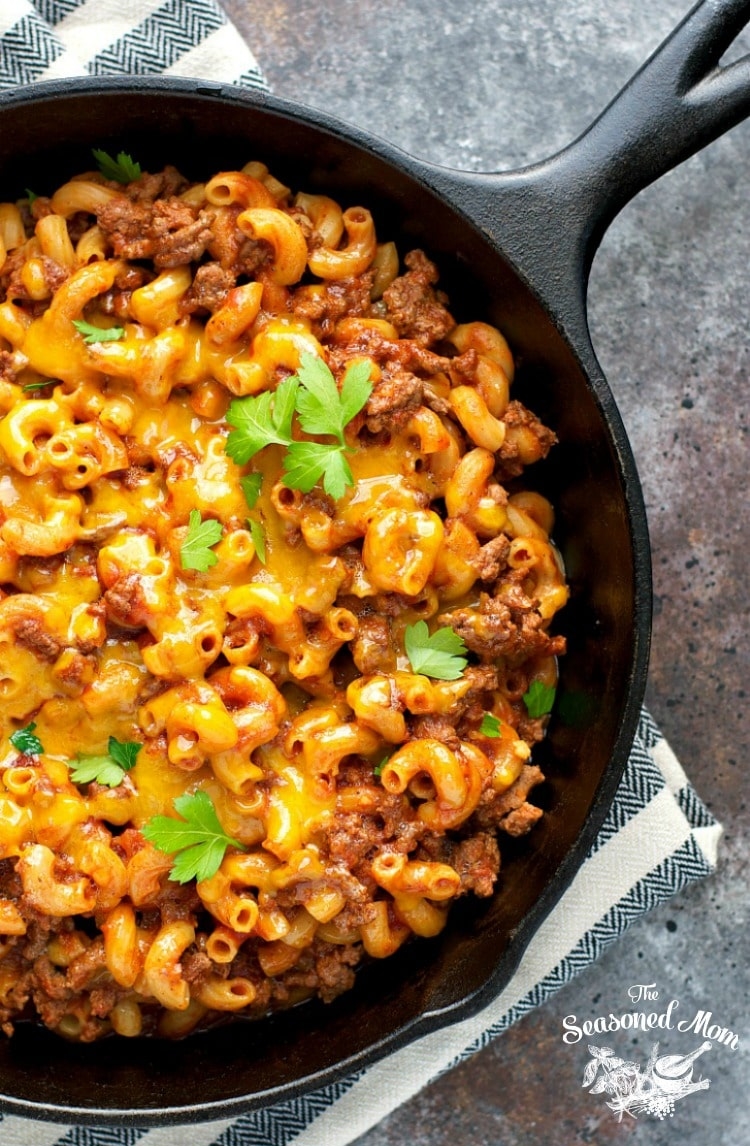 This story was originally posted on https://www.theseasonedmom.com/grandmas-one-pan-hamburger-helper/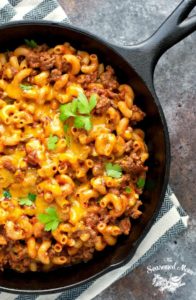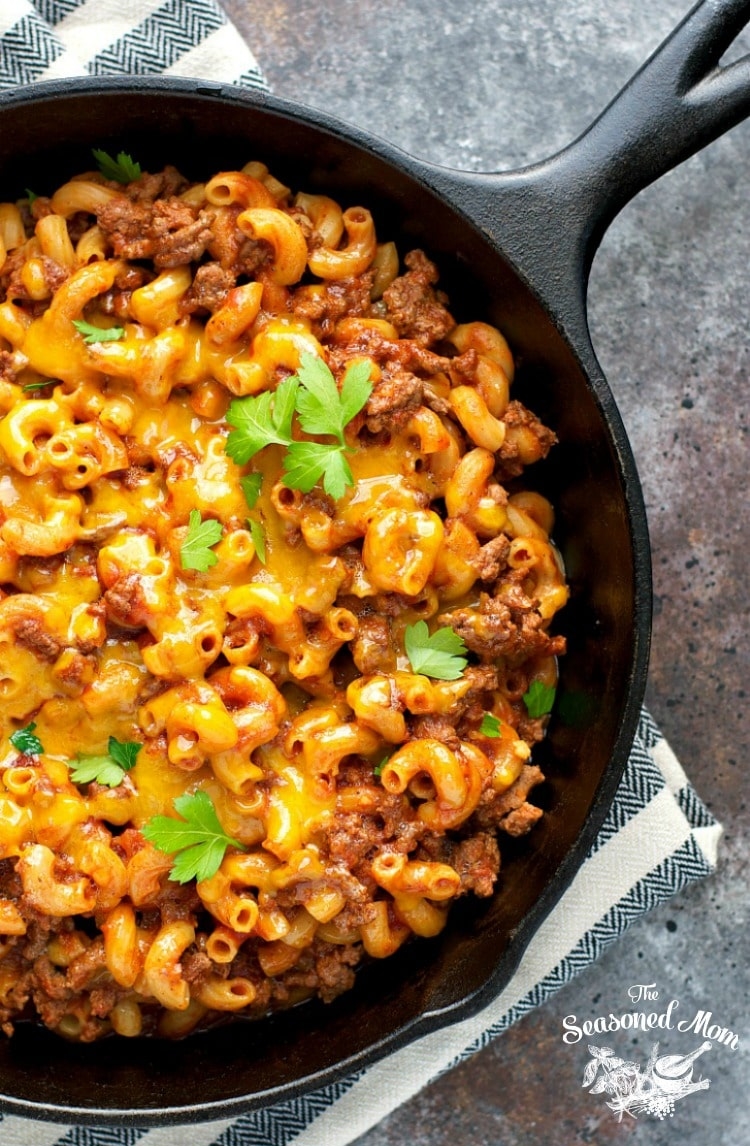 This is the best of all worlds. Like that workout that you actually enjoy; the little black dress that fits you like a glove and is on sale; or the warm, gooey, zero calorie brownie that's sitting on your plate (wait, that's not real?!). My friends, this dinner is most definitely REAL; and it's not too good to be true! With just 5 minutes of prep and a few pantry staples, Grandma's One Pan Hamburger Helper is a healthy, fast, and incredibly easy comfort food dinner that the whole family will enjoy!
After I had my first son, I returned to my office job full time and sent Gibbs to a neighbor's in-home daycare so that I could commute 45 minutes to Charlottesville for work. And while I don't keep that schedule (or that job) anymore, I can still vividly remember the end-of-the-day struggles. For working parents with babies and toddlers, there's just nothing worse than walking in the house at the end of a long day with an over-tired and incredibly hungry child who needs to eat right now an hour ago.
There were many evenings when I just couldn't get it together. I was stressed and tired, Gibbs was picky and didn't want to eat anything other than mac and cheese or chicken nuggets, and so we gave him what he wanted as quickly as possible before fending for ourselves with bowls of cereal or turkey sandwiches. And like many of you out there, I had plenty of evenings where I cleaned up the dishes and felt as though I had failed…as a mom, as a wife, and as a woman. I was raised by a lady who had a homemade meal on the table each night, but I just couldn't quite get it together with everything else that I had going on in my life. Heck, I hardly even had time to go to the grocery store, much less actually cook our food!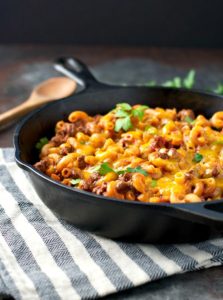 I quickly learned that I needed to have a plan in advance so that I could go grocery shopping once on the weekends and be set for the week. I also learned that I need a repertoire of quick-prep meals that I can pull together in less than 30 minutes from start to finish. Any longer, and my babies would be asleep in the high chair or throwing a tantrum on the kitchen floor! And finally, I needed these meals to be full of nourishing, healthy ingredients so that I could stress less about those Cheetos the boys wanted at lunch or those cookies that they demanded for snack. Because at the end of the day, we could all sit down together to a meal that I had cooked myself and that I could feel good about serving.
This Hamburger Helper is one of those simple dinners that has been a lifesaver for our busy family. It only requires one pan (which equals fewer dishes to clean up), and the meal practically cooks itself after about 5 minutes of hands-on prep. That gives me just enough time to change a diaper, unpack the lunch boxes, and steam some broccoli before we all sit down to eat. And best of all, when the kids join us at the table, they greet their dinners with smiles instead of tears, they clean their plates, and then they often ask for more. That's when you'll feel like a true success. That's when you will know that you've found the best of all worlds: healthy, easy, and delicious!
Grandma's One Pan Hamburger Helper
Ingredients
1

 

lb.

 

ground beef

 

I used 96% lean

2

 

cups

 

water

2

 

cups

 

beef broth

1

 

cup

 

uncooked wholegrain or regular elbow macaroni

2

 

tablespoons

 

minced dried onion

½

 

teaspoon

 

minced dried garlic

1

 

teaspoon

 

chili powder

½

 

cup

 

tomato paste

Salt and pepper

 

to taste

Optional toppings: grated cheese; parsley
Instructions
Brown ground beef in a skillet over medium-high heat until no longer pink. Drain off the fat, and add remaining ingredients to the skillet.
Stir to combine, bring to a boil, and simmer uncovered for about 15 minutes (or until it reaches your desired thickness). Season with salt and pepper to taste; garnish with cheese and parsley, if desired.