Bacon Wrapped Chicken Breast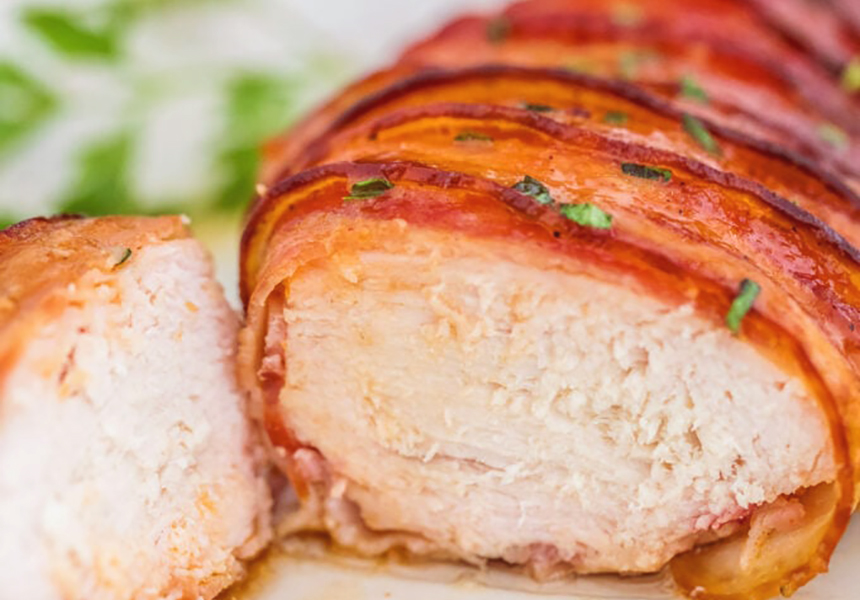 Bacon Wrapped Chicken is deliciously crispy on the outside and tender and juicy on the inside. Wrapped in bacon and finished with a brown sugar glaze. It is the perfect family dinner ready in about 45 minutes. 
Originally posted by Sweet & Savory Meals
Bacon Wrapped Chicken is one of those dishes that require little preparation but delivers an amazingly flavorful meal. This is our go-to recipe when it comes to family dinners. We love it so much, that we make it a few times a month.
What you'll need to make the bacon wrapped chicken:
4  Pineshine Farms pasture-raised boneless, skinless chicken breasts
8-12 slices Pineshine Farms pasture-raised bacon
fresh parsley, chopped
What you'll need to make the maple glaze:
1/4 cup canola oil
1/3 cup brown sugar
2 tablespoons honey
3 cloves garlic (minced)
1 teaspoon smoked paprika
1/2 teaspoon garlic powder
1/2 teaspoon onion powder
1/4 teaspoon cayenne pepper
1/4 teaspoon black pepper
1/4 teaspoon salt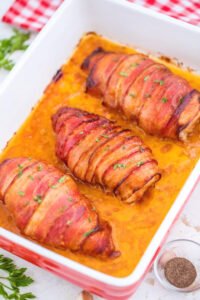 Cooking Instructions:
Preheat the oven to 375 degrees F.
In a small bowl, mix together all the glaze ingredients.
Rub HALF of the glaze mixture all over the chicken breasts.
Wrap each breast in 2-3 slices of bacon. Place the chicken breasts, seam side down in a baking pan.
Top with the remaining glaze mixture.
Bake for 25-30 minutes or until bacon is crispy and chicken is cooked through, basting the meat occasionally with the pan drippings.
If you prefer extra crispy bacon, broil for an additional 1-2 minutes.
Sprinkle with parsley, then serve.
Bon appetite!