Homemade Chopped Cheese Sandwich
At its heart, the chopped cheese is a simple affair—a cheeseburger deconstructed and elevated. A ground meat patty is fried, topped with cheese, then chopped into greasy, gooey bits that caramelize and turn slightly crunchy on the flat top griddle. That's the unifying theme. After that, the chopped cheese is up to interpretation when it comes to additives (I go with raw onion) and bun (toasted hoagie roll here). Shredded lettuce would do well too.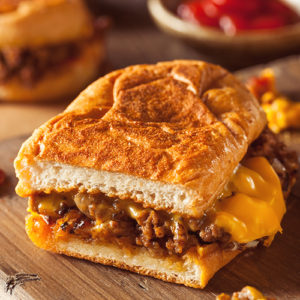 Ingredients
¼ lb. grass fed ground beef
1 hoagie roll
Mayonnaise
1 Tbsp. butter
Kosher salt
Cracked black pepper
½ onion, diced
American cheese
Dill pickle chips
Directions
1. Heat a large, heavy skillet or flattop griddle over medium-high heat. Spread an ample amount of mayonnaise on the inside of each half of the hoagie and place on the griddle to brown.
2. Form the ground venison into a patty approximately the same size as the hoagie roll. Melt a knob of butter on the griddle, then grill one side of the burger patty. Sprinkle with kosher salt and let the patty brown before flipping.
3. Flip the patty and season with ground pepper. Top the patty with the diced onion, then cover everything with a couple of slices of American cheese.
4. Let the cheese melt a bit, then, with a metal spatula, chop the patty into pieces, incorporating the onion and cheese into the meat. Cook until the moisture in the pan evaporates and the meat-cheese caramelizes well. Press the mixture into a patty shape and scoop onto the hoagie roll. Top with pickles and enjoy.