Crock Pot Thai Chicken Curry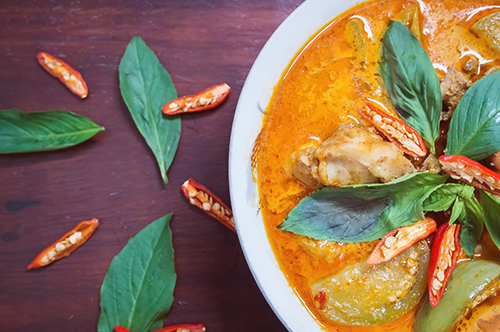 Crock Pot Thai Chicken Curry is one of the easiest meals to make and is so tasty. Curry paste, coconut milk, and ginger add a ton of flavor to this healthy, low-cal, and naturally paleo + gluten-free dinner. Your family will LOVE it!
This recipe was created by Kristen Stevens of The Endless Meal and was originally posted on https://www.theendlessmeal.com/crock-pot-thai-chicken-curry/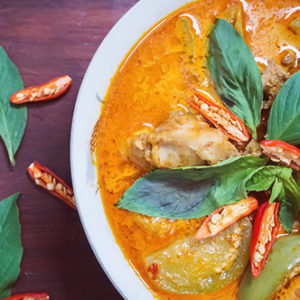 Friends! It's crockpot time again! This magical pot of cook-my-food-for-me has become a staple around here. Most days I wonder how the heck I lived without one for so long.
Remember back when I thought that crock pots were the domain of frazzled, minivan driving house moms? Boy, was I wrong! They belong to us all. Frazzled moms, cool moms, single dudes, suburban folks, city folks, country folks … crockpots are bringing us all together.
Seriously, what's not to love about quickly throwing a few ingredients in a pot and then coming back for dinner. It's. The. Best.
That's what this crock pot Thai chicken curry is all about. You literally put a couple ingredients into the pot then come back 4 hours later for dinner. Read: easiest dinner ever!
I have to tell you … making this crock pot Thai chicken curry was a little funny for me. I never put meat in Thai curry. Never ever. There're always lots of veggies, sometimes tofu, but never meat. This was a first.
The odd time when I've ordered curry with meat at a restaurant, the meat always ends up being kind of tough and disappointing. Not here. No way. The crockpot pulls a David Copperfield and turns the chicken into something super tender and delicious. Pure magic.
In this recipe, I like to use boneless, skinless chicken thighs. I find they have more flavor than breasts, and they're usually a lot more reasonably priced, too. If you have chicken breasts on hand, you can definitely use those instead.
I've made this recipe so many times now that it has become one of those recipes I don't need a recipe for. That might sound a little strange since I made the recipe. The thing is, after I make a recipe, I often reference it when I make it again.
I swear that's one of the biggest bonuses of having a blog. It's like my own personal recipe folder.
What I've found from making this so many times, is that it's a really flexible recipe. I no longer measure ingredients. I switch up the veggies. I leave the crock pot on a little longer or dig into dinner a little sooner. It always seems to work out.
Those are the best recipes, aren't they? The ones that are flexible enough that you can make on a whim and alter them as you go. They are always my favorite!
What I'm really saying is, "You have the freedom to play around with this recipe." Or not, it's totally your choice.
Enjoy, my friends!"
Recipe
Please visit The Endless Meal at https://www.theendlessmeal.com/crock-pot-thai-chicken-curry/ to view the full recipe!