Crazy for Jerky!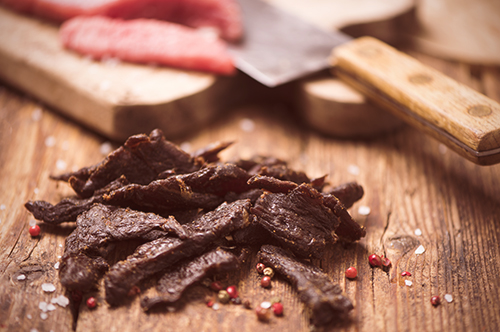 Beef jerky, it's timeless, age-old, superbly salty, and you bet your bottom dollar it's delicious! Whenever I eat it I get a strange nostalgic feeling. I'm instantly transported back to the Gold Rush; it's 1849 and I'm in a prairie dress riding shotgun in a covered wagon, the breeze blowing through my hair, and I'm munching on some darn good jerky!
To keep that wispy déjà vu feeling, when I want to make jerky I go with a tried and true recipe that has been handed down through my family for generations. All the men, naturally since the beginning of time (insert my eye roll here), made this jerky and passed it down to their sons. My families time old tradition apparently only pertains to men, because you know, meat…. Well wasn't my father in for a surprise when I, his lovely daughter, ended up being his one and only offspring! So, push came to shove, there may have been some tears, but I finally got this jerky recipe out of him!
Naturally, like the sons before me, when I was given the recipe, I tweaked it ever so slightly to, 1. Bring it into this century, and 2. Enhance the flavor even more, duh! My bold modification was deciding to bring some capers to the party. These little salt bombs are the perfect thing to cling to the meat in the final stages of the drying process. Bringing out the natural flavors and preserving them there to the last second!
Now, I'm not a monster. There are of course some things in this recipe I would never monkey with, and that of course is the most important part of the recipe. The meat. Eye of round is a lean, mean, little to no interior fat machine… I mean cut of meat. When it comes to jerky, the leaner the better. Fat will ruin and spoil jerky, and who wants that after all the hard work?!? So, choosing a leaner cut like the eye of round is always your best choice. Making it even better I always use grass fed and finished beef, the meat is more than likely already going to be leaner; which is perfect for jerky making! It also helps me know that while my sodium levels will definitely go up, I'm still putting the healthiest choice of meat into my body.
Now, from my family to yours, enjoy this time traveling, fought over, drool worthy recipe:
Dad's Old-Fashioned Jerky Ingredients

3lb Eye of Round Roast
¼ Cup Worcestershire Sauce
¼ Cup Maple Syrup
1 Teaspoon White Pepper
Salt to taste
1 Tablespoon Onion Powder
1 Tablespoon Garlic Powder
1 Tablespoon Chili Powder
2 Teaspoons Dried Oregano
2 Tablespoons Chopped Capers
¼ Cup Caper Juice
Instructions
1. Slice, carefully, the Eye of Round into ½ centimeter (or as close as possible) slices. The grain runs the length of the cut for easy slicing with or against the grain! Place slices into gallon slice zip lock baggy.
2. In bowl combine all other ingredients.
3. Stir to combine
4. Pour over meat into zip lock baggy
5. Let mixture sit overnight in refrigerator
6. When ready to dehydrate, let meat come to room temperature first.
7. Dry for 3.5 – 4 hours
8. Voila! Enjoy!